I grew up on a farm near Hutchinson, Minnesota. I can't say I always wanted to be a writer. But I did always love books. In the winter, my mother had to force me to go outside and play. I wanted to stay inside and read. Hey, it was COLD outside. In the summer, I would play on the swings or in the haymow with my friend, Jackie Bonniwell. But most of the time, I'd lie on a blanket under the oak tree in the front yard and read.
My favorite books were the Betsy Tacy series by Maud Hart Lovelace. (Look for them in your bookstore or library. They're available in paperback, too.)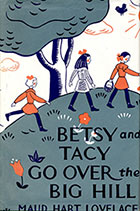 I liked the Betsy Tacy books because they were about three friends—Betsy, Tacy, and Tib—and all they fun they had together.
I had two best friends in grade school. Their names were Sharon and Mary Ellen. They're both still my friends. Sharon and I would play paper dolls and make up stories for hours. And we would put on shows where we would sing and dance for our parents. I directed the shows. Sharon says I never let her sing. That was because she couldn't sing. Mary Ellen's Mom let us do our homework while we watched TV. That was cool. When we weren't doing homework or watching TV, we were hiding from Mary Ellen's little sister, Margaret Ann.
Now I have many friends who are children's authors like me. Or I have friends who like to read books. If you want to be my friend, you'd better enjoy books.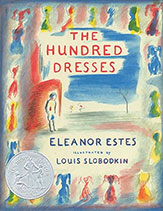 I recently reread The Hundred Dresses by Eleanor Estes. The theme is kindness and it deals with bullying in a way that is still relevant today. If you have not read this book, read it!  
Tell me about your favorite books and authors and why you like them. You can tell me about your friends and why you like them, too.