Mr. Blue Jeans
A Story about Levi Strauss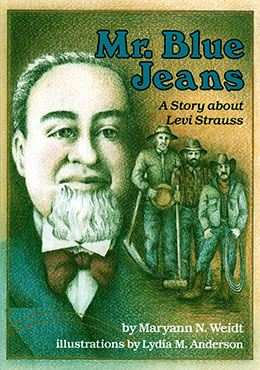 In 1847, an eighteen-year-old immigrant arrived in New York. He had little in his pockets and no knowledge of English. Yet, by 1874, people throughout the United States knew him as the man who made blue jeans with copper rivets. Even now, Levi Strauss's name lives on as a mark of quality and style.
This is the book that taught me to incorporate historical details into my biographies. I learned so much from my editor. She also told me to think about my five senses. She would say: Think about not only what your characters see, but also what they hear and smell.
"Weidt's brisk account transports readers to mid-nineteenth-century Bavaria, where increasing restrictions on Jewish life … convinced the young peddler Strauss to move abroad with his family. The author's realistic descriptions convey the cramped unpleasantness of the ocean passage and the rigors of life in New York … Black-and-white illustrations … intensify the innate drama of this engrossing rags-to-riches saga." (Booklist)
"Weidt does a good job of showing how Strauss lived out the American dream by taking calculated risks, working hard and capitalizing on good luck. She also seamlessly weaves some fascinating local history into her biography of this man who left a financial empire to his family and a philanthropic legacy to San Francisco." (San Francisco Chronicle)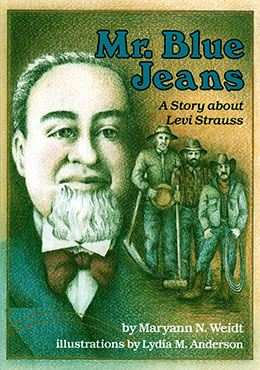 written by Maryann Weidt
illustrated by Linda M. Anderson
Lerner Classroom