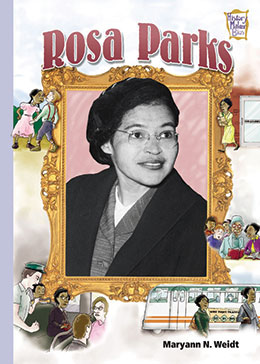 Filled with illustrations, photographs, artwork, historically accurate caricatures, and little-known facts, Rosa Parks introduces readers to a woman whose defiant action became a key event in the Civil Rights Movement. On December 1, 1955, Rosa Parks was ordered to give her seat to a white man, and she was arrested for refusing. Raised to stand proud, even when being harassed and discriminated against, Parks showed her fellow African Americans that they too could stand up for their rights.
The History Maker Bios series offers introductions to the lives of historical figures found in the core of every history curriculum. Filled with fascinating true stories and illustrations, photographs, artwork, and historically accurate caricatures, each title in this lively series will entertain and inform readers.
In 1999, Rosa Parks was honored with the Congressional Gold Medal of Honor for being the "Mother of the Modern Day Civil Rights Movement." Though Rosa never bore a child, she was a mother in many ways. She saw her role in life as one of service—but not in a demeaning sense. She simply strove to be helpful. She possessed a deep spirituality that taught her to be on the alert for opportunities to serve. She found such an opportunity when she said "No." That one word changed the course of United States history.
It takes a special courage to be a writer, for writers—whether we pen fiction or fact—must tell the truth. When I think about how I can be helpful in my daily life, I remember Rosa Parks and the courage she embodied. May her spirit and fortitude guide us all in writing and speaking the truth. Do not be afraid!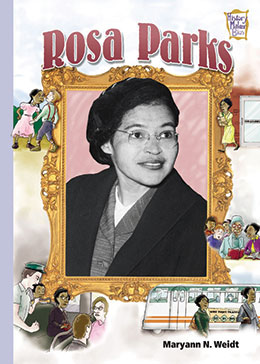 written by Maryann Weidt
illustrated by Tim Parlin
Carolrhoda Creative Minds
You can find this book at your favorite library or used books shop.