Fighting for Equal Rights
A Story about Susan B. Anthony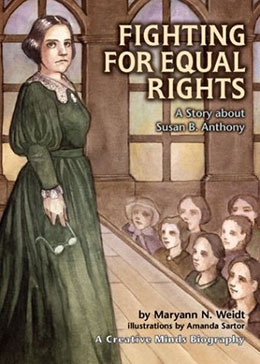 Born a Quaker, Susan B. Anthony grew up being taught that women were equal to men. During her lifetime, she was a teacher, a newspaperwoman, and an activist. She worked to further many causes such as the temperance, the abolitionist, and women's rights movements. Although she didn't live to see her dreams of women's suffrage come true, her tireless dedication to the cause was crucial to its success.
"This straightforward biography outlines the women's rights activist's life from childhood and schooling to speechmaker and author. Weidt clearly explains Anthony's involvement with the Daughters of Temperance and how her interests helped her realize that women's suffrage was the solution to creating legitimate equal status for women.  Youngsters will gain an understanding of the history of the period and of the social position of women." (School Library Journal)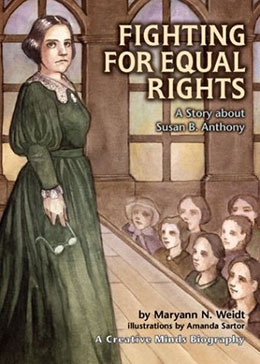 written by Maryann Weidt
illustrated by Amanada Sartor
Creative Minds Biography
Millbrook Press